This last weekend one of my students asked if we might talk…? (I teach the next generation's business leaders at the Bard MBA.)
Sure.
"It's my daughter…," she said, her eyes moistening. "She asked me this week if she is going to have a future."
It's heartbreaking that our children have to deal with these fears. But in many ways, they are being more adult about it than we have been. They see speeches such as David Attenborough's at the recent global climate conference in Poland where he stated: "The end of civilization is on the horizon." Our children realize that grownups have made a mess, that their future is in peril, and they want answers.
A young veteran asked me the same question several weeks before. His daughter is angry and wants to know, "Is there hope?"
Hope is not a strategy, but my answer is, "YES," your daughter is going to have a future. And it is up to us to determine if it is a finer one. We have all of the technologies we need to solve the worst of the challenges facing us. Whether we will implement these is up to us, but I believe that we will, and here's why…."
I outlined the exciting progress we detail in our new book, A Finer Future: Creating an Economy in Service to Life. For example, we are solving the climate crisis profitably, both through the rapid spread of renewable energy, battery storage, electric cars and autonomous cars. For the details on this see Tony Seba's great speech to the World Affairs Council. Then we can use regenerative agriculture to pull carbon from the air and put it back into healthy soils where it becomes a nutrient, increasing the profitability of the farmers and ranchers doing this: see Gabe Brown's description of how this works. The book lays out how to reverse the crushing inequality facing us and ensure meaningful livelihoods for all. Here in Colorado, we have just elected an entrepreneur as Governor who has pledged to make the state 100% renewably powered, ensure a good education for all our children and protect our environment. The day after his election, he asked if I would serve on his Transition Team I told my student, "We're doing it in Colorado. You can do it in your town, in your state."
"Does your daughter like to read?" I asked.
"Oh yes. it's her favorite way to spend an evening."
"Instead of buying her that latest plastic accessory, you might give her a copy of our book, A Finer Future. She can discover for herself all of the ways people are building a world that works for everyone."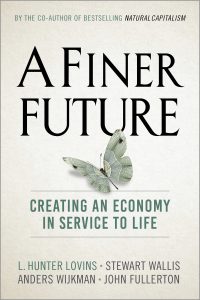 As you hug your family these holidays, please remember that the future our kids will inherit is in your hands. Will it be a world of failing economies, increasing violence from storms and conflicts, millions of miserable migrants and climate catastrophes? Or will it be a finer future of empowered entrepreneurs spreading shared prosperity on a healthy planet? Will our Regenerative Community Hubs and citizen activists create meaningful jobs and lives of wellbeing?
This holiday season, help me give hope to our children.
Your donation to Natural Capitalism Solutions makes that possible.
Thank you for looking young people in the eye and telling them that together we can make a finer future for all children.

Hunter Lovins
President, Natural Capitalism Solutions