[fusion_builder_container hundred_percent="yes" overflow="visible"][fusion_builder_row][fusion_builder_column type="1_1″ background_position="left top" background_color="" border_size="" border_color="" border_style="solid" spacing="yes" background_image="" background_repeat="no-repeat" padding="" margin_top="0px" margin_bottom="0px" class="" id="" animation_type="" animation_speed="0.3″ animation_direction="left" hide_on_mobile="no" center_content="no" min_height="none"]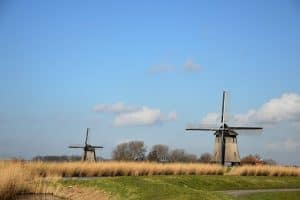 Unreasonable.is
27 September 2012
Why Give a Damn: New corporate leadership and sustainability practices are reshaping the business landscape. Learn how you can help shape the future you want to live in by voting with your dollars.
Fall settles softly over the St. Vrain Valley, as gold tinges the cottonwoods and snow softens the Rocky Mountain front. Warm days, cool evenings – perfect for sitting on my deck as the horses graze and reflecting on times past.
It's been a year and a bit since my friend Ray Anderson died, and this evening I'm missing him. Ray was one of the first traditional industrialists to recognize that everything that his company did was contributing to the destruction of life as we know it on earth. And, he vowed, his company, Interface, would be the first company of the next industrial revolution.
His next observation was that he hadn't a clue how to do that. So he called Paul Hawken, who, along with Amory Lovins, would become my co-author of the book Natural Capitalism – tho in 1994 it remained a gleam in our eyes – and asked for help. Paul called a bunch of us and we became Ray's "Dream Team". Together we guided Interface to become the poster child of sustainable business, and Ray became a friend. 
Interface remains a sustainability leader today. Ray set a goal of Mission Zero: zero footprint, zero impact. Interface's carbon dioxide emissions are down 82% in absolute terms – roughly the amount that scientists say the world must achieve by 2050 if we are to avoid the worst impacts of the climate crisis now upon us. Fossil fuel usage is down 60%, water use 75%. The company's use of recycled material is up 30%, renewable energy up 27%.
Fine – they're an environmentalist's dream. But, here's what makes Interface's early example of Ray's vision important for entrepreneurs: the company's costs are down $4.5 million, sales are up two thirds, and profits doubled.
Ray was one of the first major industrialists to prove that his commitment to do the right thing had a business case. His savings from using fewer resources entirely paid for the transformation of his company from a traditional manufacturing operation to a prototypical company of the 21st century.
I could tell stories about Ray for hours. This South Georgia high school football star was intensely competitive. He was first and foremost an entrepreneur, who made the company he founded a global force in his industry and the North Star for CEO's who would emulate him. It was Ray's dedication that helped Lee Scott at Walmart find the courage to set that behemoth on its path of global influence. Likewise Jeffrey Immelt at GE.
Ray was one of the first business people to recognize that managing a company for the next quarter is a recipe for irrelevance, and perhaps that is his real legacy. When Ray died, Joel Makower, publisher of GreenBiz, asked, "Who is the next Ray Anderson?" Many of us have nominated Paul Polman, CEO of Unilever.
About a year ago Paul announced that he would no longer report to the Wall St analysts on a quarterly basis. He tied that sort of short-term management to the financial crisis of 2008, calling investors who rely on Wall St metrics "short-term gamblers".
Ray's commitment is firmly embedded in his company. Paul's courage is very much a live story. When he refused to report quarterly, Unilever's stock value fell 10%. Polman's reaction, I respect you as people, but if that is what you value, I don't want you as my owners. OK, I'm impressed. Ray once said that it was far easier for a founder to make the sort of commitment that he did. Founders have a sense of legacy and often take a longer-term view than hired CEOs, who have a typical tenure of three to four years.
Many people asked me what they could do to help Ray when he was first setting out. I would always answer: buy Interface products. We MUST make Ray's metrics blow away the competition.
Same answer today. Every day you vote with your dollars. Are you voting for the leaders who will shape the kind of future you want to live in? Every item you buy should come from a company with a commitment to changing business for good (the motto of Bainbridge Graduate Institute – where I teach).
I am.
I hope that you'll join me.
Burning Question:
What will you do today to vote with your dollars for a better future?
[/fusion_builder_column][/fusion_builder_row][/fusion_builder_container]