Dear Friend,
I write you to ask for your annual support.
If your in-box is anything like mine, it's flooded every day with great groups asking for donations. Some send several appeals a day. They do it because it works.
But it shouldn't. More than ten years ago, The Guardian reported:
"According to research by McAfee, a remarkable 78% of all incoming emails are spam. Around 62 trillion spam messages are sent every year, requiring the use of 33bn kilowatt hours (KWh) of electricity and causing around 20 million tonnes of CO2e per year."
Your support is critical to Natural Capitalism, but I'm only going write to you a few times a year.
I hope you know that Natural Capitalism is one of the most effective groups you can support. We work globally and in small towns across America to help companies, communities and citizens implement more regenerative practices profitably.
Here's a snapshot of all, in this crazy year, that your generosity made possible:
NCS is a founding member of the Partners for a Planetary Emergency. Now comprising 300 members from around the world, we convinced the European Union to commit to a green recovery for Europe, Ministers from 75 countries to sign an ambitious biodiversity protection pledge, and bring coherence to the civil society organizations at next year's Climate Summit.
NCS replicated that model in Colorado, working with the Alliance Center to create the Emergence Series and then the Colorado Regenerative Recovery Coalition (CRRC). Now totaling 185 members, organizations representing 20,000 employees and more than $2.5 billion in revenue in the state. Working with the Governor's office, local elected officials, business people, scientists and citizens, we crafted a set of recommendations to enable Colorado to "Build Forward", creating a regenerative economy in our state that works for everyone. Founded on principles of equity and democracy, our resulting playbook is sought by activists from other states and cities as a model for their recovery.
As the lockdown descended, we took to the airwaves to educate business leaders, activists and students from Costa Rica to Australia, Kazakhstan to Cape Town, Poland to Portland Oregon. This year alone, we have done 47 webinars, podcasts and virtual keynotes, reaching thousands. The photo at the top shows just a few of the global webinars we've done.
Our work on regenerative agriculture is going mainstream. At the Climate Summit in Paris, I argued with negotiators that regenerative agriculture was the other half of the climate solution with emissions reduction: it is the only affordable way to take excess carbon from the air and return it to the soil that can scale globally. John Kerry, President-elect Biden's Special Presidential Envoy for Climate stated recently: "The reality is the Biden plan is focused on agriculture, regenerative agriculture."
What he's talking about is how mycorrhizal fungi in healthy soils mineralize carbon and convert the climate crisis into nutrients for plants. Natural Capitalism has been educating senior decision makers about this for years, and it's truly thrilling that we're about to see it in action at the national policy level.
At the hyper local level, our back shed at Natural Capitalism has become the home of Nat Cap Bikes, a repair shop, and production facility for bicycles for needy children and DUI offenders.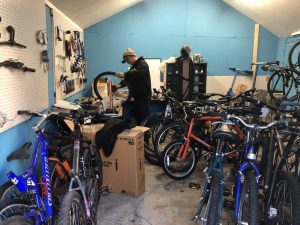 In addition, we worked with the Boulder County Sheriff rescuing animals from the path of the fires that ravaged Colorado's Front range. Climate change is here and the fires are fierce.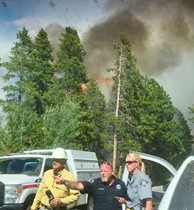 I, like you, hope that a vaccine arrives soon and we'll be able to see each other again, hug one another, and get on with the vital work of implementing solutions together.
Until then, please know that we're still working for you. Even if I'm not coming to speak at a town near you, with your help, Natural Capitalism Solutions will keep creating a finer future.