Last week we described Natural Capitalism Solutions' (NCS) vision for transforming the Boulder-Denver region from an extractive economy to a regenerative one. A regenerative economy can provide solutions to the ecological crises we face while delivering shared prosperity for all. But in order to get there, we must exercise our imaginations. We have to tell new stories about what the economy is and what it can be. Fortunately, as it turns out, the facts are on our side.
Most people think that Colorado is prosperous because it is an extractive economy, fueled by such industries as oil, gas, mining, timber and conventional agriculture. Few people realize that outdoor recreation, a $28 billion industry, delivers four times as many jobs (229,000) as oil, gas (which supplies only 39,000 jobs) and mining combined. Natural foods is a $2.5 billion dollar a year industry, compared to the state's $1.6 billion conventional agriculture sector. Colorado's entrepreneurial start-up economy is generating far more jobs than all of the state's legacy industries. If you add clean tech, education, arts and culture, the cannabis economy and regenerative agriculture, the new story becomes clear. Colorado is already transforming itself away from extractive enterprises. But the public and political perceptions are stuck in the 1880s.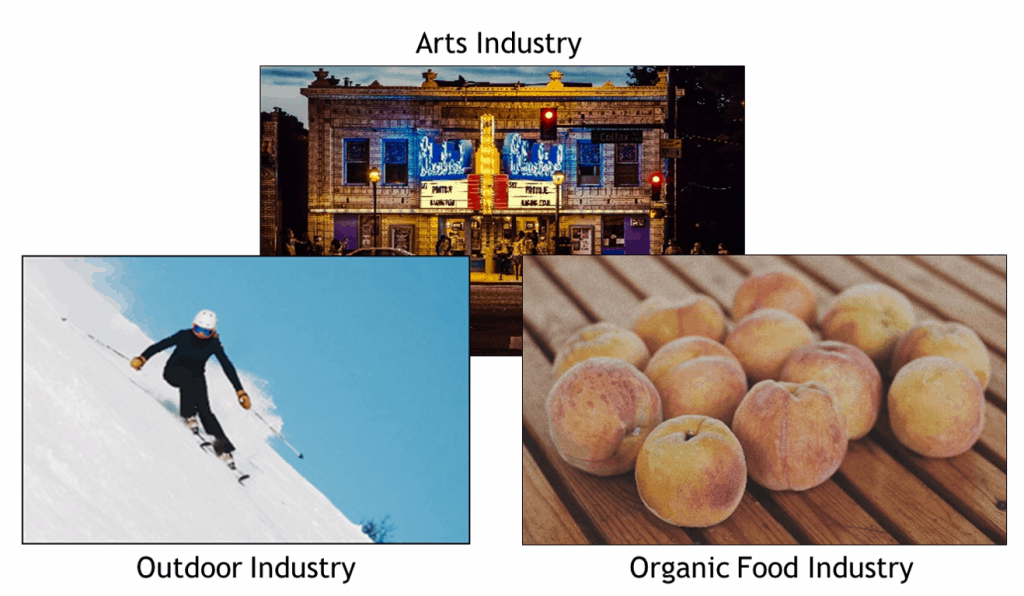 The Arts industry: Bluebird theater in Denver. Photo by Mark Hessling
Natural foods industry. Photo by Oleg Ivanov
The Hub will change that. NCS will use John Fullerton's Regenerative Capitalism to offer an alternative to the neoliberal economic thinking of the last century. We will set forth the principles and then actually create a place-based way to stimulate job creation in the industries that pump health into our ecosystem, our agricultural soils, our society, and the well-being of our citizens. We will demonstrate why Colorado should prune away and transition off of the eroding industries of the last century. To achieve this new narrative, the goals of the Hub are as follows:
• Enhance Knowledge and Skills: Support development of rich knowledge-sharing and skill-building networks within and across multiple communities;
• Build Capacity: Increase regenerative capacity at the individual, organizational, community, bioregional, and global scales;
• Deploy Capital: Help drive significant amounts of aligned capital toward regenerative initiatives;
• Drive Action: Provide an integrated approach to practical action, research, and education in regenerative economics;
• Shift Policy: Inspire a fresh policy agenda that explicitly recognizes and supports place-sourced, diverse, and regenerative economies as a counterpoint to conventional economic development.
Our goal is to turn the concepts of regenerative capitalism into practical applications at the local level. Our tangible successes will set examples for others to follow and add traction to the drive for more Regenerative Hubs across America and the world.
This is Part 2 of a 4-part series about NCS's collaborative work to create the Regenerative Hub. Stay tuned for Part 3 coming next week. Parts 1 and 2 have described the vision and new story of the Hub – Part 3 will answer how we get there.