Written by Eryn Elder and Lenore Silberman
2012 Interns

Our very own Bill Becker attended Rio+20, the United Nations sustainability summit in Rio deJaneiro, Brazil this June. Bill attended to display the Future We Want (FWW) in the form of a visual media exhibit—this project has become a global platform calling for positive solutions for a sustainable future. Bill also went as a member of Mikhail Gorbachev's international Task Force on Climate Change, which at the conference, issued a detailed report on current climate science; described the consequences of inaction; and offered several recommendations to world leaders. Bill gave several speeches, including an address to the World Youth Congress, which met just before Rio+20 began.
Returning home from the 2009 U.N. climate conference in Copenhagen, Bill said, "After the failure at Copenhagen, people in the environmental movement were not only disappointed, they were depressed." However, the mood from Rio+20 held more optimism. "Rio+20 also ended with frustration, but the mood was far different. It was as if the tens of thousands of people who hoped for a better result said, 'Okay, our leaders won't lead. No surprise. We'll just have to go home and do it ourselves.' There was a feeling of resolve."
As interns for Natural Capitalism Solutions working on the FWW, we were curious about the "resolve" that Bill had mentioned to us. We interviewed Bill hoping to provide an in-depth, first-hand perspective about Rio+20 and the FWW. Encouraged by civil society participation and the success of the FWW, here, Bill reflects on the conference and its outcomes and discusses the positive worldwide impact of his exhibit and the sustainability challenges that continue to persist.
Q: What was the atmosphere at and around Rio+20?
A: Rio+20 took place at a sprawling conference center called RioCentro. It seemed misnamed because it was far from the center of the city—an hour-and-a-half by bus. The first things we noticed as we approached RioCentro each morning were the soldiers and police that surrounded the place: there were hundreds of them, each armed with black automatic weapons. Riot gear—large shields for example—was stacked and ready along the roads. Armored personnel carriers stood by. Military helicopters flew overhead.
Rio+20 and its satellite events lasted two weeks. The UN conference itself started with committee meetings in which officials hammered out details of a consensus document that would be the principal product of the conference. It was only during the last three days (June 20-22) that the main show took place with heads of state and other leaders, including Hillary Clinton, showing up to bless the final document and give speeches about their commitments to sustainability.
Meanwhile, outside the main event, there were scores of meetings called "side events," with presentations on a variety of topics related to sustainable development. Some were sponsored by the UN, while many were held by organizations from civil society.
Q: What were the most compelling moments at the conference?
A: There were compelling speeches by dignitaries, of course. But I would pick two other moments. The first was a speech to all the delegates by a teenager from New Zealand. Her name was Brittany Trilford, and her role was to be the "voice of youth." With incredible poise, she admonished the delegates to make progress on behalf of children everywhere. The second moment was at our exhibit. A choir of children suddenly appeared and began singing in front of our large "Future We Want" sign. One of the songs was John Lennon's "Imagine."  People gathered around the kids as they sang, and I don't think there was a dry eye among us.
Q: Your display was highly successful at the conference. How did the FWW display come together for Rio+20?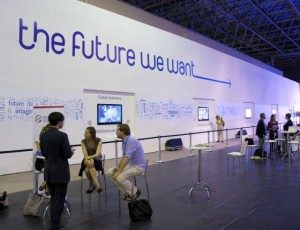 A: Three years ago, several colleagues and I decided we needed to do something to change the global conversation about the future. The media was dominated by visions of apocalypse. It was important to understand the future we must avoid, but nobody seemed to be discussing the future we can build.
The phrase was suggested to us by Ken Snyder who leads a nonprofit called PlaceMatters in Denver. Ken and I have worked on these issues, sometimes together, for a very long time. Neither of us had any idea how powerful and widely used the phrase would become. Last summer, we took the idea to the United Nations as it was working on a theme for Rio+20. They loved "The Future We Want." We agreed to collaborate with the UN to create a global conversation about that future and to round up the best of examples of how media were being used to help people understand what that future might look like.
So, over the past eight months, we've hosted that global conversation on our web and social media sites. We've rounded up visualizations of sustainable cities, along with videos showing how sustainability already is being practiced around the world, and we developed an exhibit for Rio that consisted of 5 high-definition screens on which we showed how sustainable development could be applied at global, urban, suburban and rural scale.
Q: How has the FWW inspired others to get involved, and what have been some key successes of the initiative?
A: One success has been to create the platform for a constructive global conversation and to put an exhibit in front of the international community in such a short a time. We only managed to find funding for the exhibit a month before Rio+20 began. My partner in The FWW project, Jonathan Arnold, worked 24/7 on this.
The key success, however, has been the traction our theme has achieved around the world. When Rio+20 began, photos of the exhibit were featured in media around the world, and it became the iconic image of the conference. The "future we want" framework went viral. The Secretary General used it in nearly every speech leading up to Rio, and the UN is promoting the theme heavily. The final document at Rio was titled "the future we want," and Ban ki-Moon has made "the future we want" the tagline of his next five years at the United Nations. We've signed partnership agreements with a number of organizations to collaborate. Several international organizations including Peace Child International tell us they intend to keep using the "future we want" theme. We'll see if it sticks and if it retains the connotation of action we intend.
It doesn't seem that four words could mean much. But these words convey something we've been missing: intentionality—in the words of Buckminster Fuller, a resolve to "be the architects of the future, not its victims." Rio+20 gave those four words a worldwide platform, and I think they did indeed change the global conversation.
Q: With much success surrounding the FWW, many sustainability challenges continue to exist. What do you believe is the biggest obstacle keeping us from a future we want?
A: If I had to name one big barrier, it would be the power of entrenched special interests that use enormous amounts of money and influence to keep us locked in the past. We need truly transformational changes in our energy, our economy, and our institutions, to name a few. But some powerful people have done quite well with the status quo, and they want to keep it.
The most prominent example are the fossil energy industries, which have been largely responsible for keeping the United States locked in a carbon economy. Governments are spending billions of dollars worldwide to subsidize those industries. That money should be redirected to creating and commercializing technologies that will give us a low-carbon future.
Q: Finally, what would you say to inspire and encourage people about the FWW?
A: It has never been more apparent that we are part of a global community. When one nation's economy sneezes, the rest of the world catches cold. One community's carbon emissions contribute to climate changes that affect everyone on the planet.
It also has never been more apparent that we are an inter-generational community. Our actions today will affect the future of our children as never before. And it's never been more clear that we are part of an ecological community. The human footprint is so large that it now threatens entire life-support systems.
So, I would encourage us all to act as responsible, constructive members of all these communities. There can be a great deal of joy, as well as sustainability, in those types of relationships.
Finally, because I'm now a senior citizen, I think about how there came a time when my parents' generation "passed the torch" to us. In my view, passing the torch is an obsolete concept. My generation should not pass a torch that's in such bad condition. We all need our hands on the torch today. All generations need to work together to build the future we want.

——–
Currently, Bill and his team are assessing the opportunities for the FWW. Bill has discussed developing educational curricula, circulating the exhibit, and continuing to demonstrate the power of modern visual media to help people not only understand sustainable development but to get committed enough to make it happen in their own communities. Bill said, "There's an old saw in politics: If you want a politician to act, create a parade he'll want to jump in front of and lead. My hope for The Future We Want is that we'll help create the parade."
For more information about the Future We Want visit our facebook page at http://www.facebook.com/futurewewant, follow us on twitter @futurewewant and learn more about the initiative at http://futurewewant.org where you can post your visions and solutions for a sustainable future.