/]he first ever copy of Climate Capitalism arrived today. Margo Boteilho, our accountant, came in with the mail. I was giving an interview on my new book Climate Capitalism with Robert Colangelo of Greensense. It was my second interview of the day: this morning my co-author, Dr Boyd Cohen, and I did an hour long webinar for Net Impact on the book, and I was focused on remembering what I'd said two hours before and what this new audience hadn't yet heard – one of the tricky bits of doing multiple interviews in the same day.
Margo slipped into my office and ceremoniously laid a large brown envelope on my desk.
It didn't occur to me to open it til she peeked back in after I'd hung up, and pointed at it, grinning. I shrugged – big brown envelopes arrive each day: books people are sharing with me, new reports….
"Open it," she nudged.
[fusion_builder_container hundred_percent="yes" overflow="visible"][fusion_builder_row][fusion_builder_column type="1_1″ background_position="left top" background_color="" border_size="" border_color="" border_style="solid" spacing="yes" background_image="" background_repeat="no-repeat" padding="" margin_top="0px" margin_bottom="0px" class="" id="" animation_type="" animation_speed="0.3″ animation_direction="left" hide_on_mobile="no" center_content="no" min_height="none"][fusion_youtube http://www.youtube.com/watch?v=m5fYQZIr1js
Hmmm, started to feel a bit like a party. Well, OK, the pressing crush of e-mails could wait, I guess….
Then my eyes saw the Hill and Wang logo. Whoa, that's my publisher….
And there it was. The first ever copy of Climate Capitalism.
OK, this one I'm not going to sell.
Instead I danced about the office like the darn squirrel in Ice Age with his nut.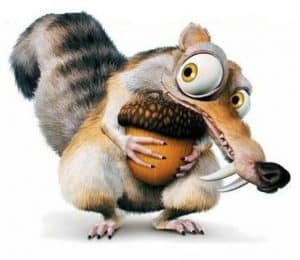 It made it real in a way that the bound galleys cannot. Two years of work from that first evening when Boyd approached me over a supper he'd asked for to propose that he become my co-author on the sequel to Natural Capitalism. I'd chuckled politely, at the time. But Boyd went out and found us an agent, who turned out to be my old friend Bill Gladstone. Who brought us an unheard of advance and the marvelous partnership with Hill and Wang, and our great editor, Thomas LeBien. Who was there with us all those months of research, and writing, and rewriting, and fact checking, and copy editing, and going crosseyed re-reading unbound galleys and bound galleys, and last-minute begged for edits, and….
To now gleefully hold the book.
Mmmm….
Good thing, I guess. I leave Tuesday for New York to begin the dern tour – speeches at Bard College, and Vasser, meetings with funders in New York City, thenTexas, Miami for Sustainotopia, then back here to Colorado for Mile High TEDx, out to California for the Social Enterprise, Social Business conference at Mills College, Denver again for the Sustainable Opportunity Summit, and back to CA for the official 12 April launch of the book at the Commonwealth Club in San Francisco – at which point you too can get your very own copy at your favorite local bookstore – 'cause it'll hit stores that day (unless you have already ordered your pre-publication copy on Amazon.com) – then off to Virginia, DC, Nashville, Seattle, Portland….
OMG. Feels like a line from Tom Paxton's "Where I'm Bound":
"If you see me passing by and you sit and you wonder why, and you wish that you were a rambler too, nail your shoes to the kitchen floor, lace 'em up and bar the door, thank your stars for the roof that's over you. And I can't help but wonder where I'm bound, where I'm bound, I can't help but wonder where I'm bound."
But tonight I'm bound for a drink with an old friend at the Upstairs Kitchen in Boulder, then home to my own bed. Cradling a copy of Climate Capitalism.
*****

Follow Hunter Lovins on Twitter: http://www.twitter.com/hlovins[/fusion_builder_column][/fusion_builder_row][/fusion_builder_container]