[fusion_builder_container hundred_percent="yes" overflow="visible"][fusion_builder_row][fusion_builder_column type="1_1″ background_position="left top" background_color="" border_size="" border_color="" border_style="solid" spacing="yes" background_image="" background_repeat="no-repeat" padding="" margin_top="0px" margin_bottom="0px" class="" id="" animation_type="" animation_speed="0.3″ animation_direction="left" hide_on_mobile="no" center_content="no" min_height="none"]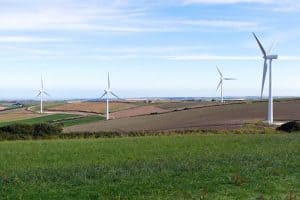 Sustainable Industries
14 February 2012
Claudia Capitini, the aptly named Sustainability Maven at Eco-Products, had a problem.
She knew, as smart companies do, that sustainability is the path to greater prosperity and profitability. Twenty six separate studies from such consultancies as those wild eyed-environmentalists at Goldman Sachs show that the companies that are the leaders in environment social and good governance policies, bolster stock prices, achieve higher profitability,and secure an enduring competitive advantage.
With a large sales staff that had no formal training in sustainability, Claudia needed to enhance their understanding of the environmental attributes of the company's products so that they could sell them effectively. She observed,
"With a brand centered around sustainability, and a complex offering such as ours, we needed to tell our story with precision, but we realized our sustainability story was being lost in translation to the customer."
Claudia and her team identified the knowledge, skills and attitudes her sales staff needed to communicate sustainability to customers. Realizing that a "Sustainability 101" approach wouldn't suffice, the team built a series of interactive e-learning modules that distinguish the life-cycle characteristics of the company's diverse product offering. The flexibility of the e-learning platform enabled the company to create updated online learning modules as new content becomes available.
The tool taught salespeople how to communicate sustainability concepts to customers with differing values, and distinguish Eco-Products recycled and compostable features for the market. Claudia commented, "The program provided a practical training on how to communicate the importance of sustainability to different types of customers."
To encourage participation, and track employees' progress through the educational material Eco-Products then implemented an incentive structure, rewarding salespeople who completed the training. By engaging employees and customers and extending their commitment to sustainability beyond their headquarters, Eco-products not only captures the eco-premium, but is enjoying improved worker productivity.
Claudia found what 85 percent of senior managers surveyed believe: managing human capital is the most important means of improving productivity. Gallup reiterates, "Engaged organizations have 3.9 times the earnings per share growth rate compared to organizations with lower engagement in the same industry." Companies with an engaged workforce achieve higher earnings than organizations that fail to engage their employees. There are may ways to capture employees interests, but engaging employees on sustainability turns out to be a powerful motivating tool for delivering improved customer satisfaction, increased productivity, and reduced employee turnover and absenteeism. At a time when Americans feel worse about their jobs than ever before, this coupling of sustainability training and employee engagement is a particularly effective way to enhance productivity, retain customers and motivate your workforce.
Firms seeking competitive advantage today will find this an especially potent mix. Ninety-two percent of the so-called Millennials say that they want to work for a responsible company. Fortune Magazine and MonsterTrak both report that Generation-Y wants to be involved, engaged members of a workforce that has a positive impact on the world. Replacing a good employee costs companies between 70 percent and 200 percent of the employee's annual salary. It should then come as no surprise that 93 percent of CEOs surveyed by Accenture now believe that addressing sustainability is crucial to their business success.
How do you build an effective engagement strategy and implement it across often disparate networks?  The answer can be drawn from six leading principals:
Relevancy: Establish the business case for sustainability right away. Show how sustainability relates to the company, its products, and the industry. Make clear what is important from a customer and consumer standpoint.
Learning: Social networks, the Internet, and smart-phones are fundamentally changing the way people can learn. By utilizing a variety media to reach employees you create a learning platform that is flexible, and adapts to their preferences.
Accessibility: Ensure that trainings are easily accessible. Leveraging the Internet enables staff to learn in the airport, on the metro, at home, or wherever learning is most comfortable.
Competitive Advantage: Give your sales staff and frontline employees the ability to understand how your product or service is environmentally or socially superior to competitors'.  Teaching them how to differentiate your product or service, and how to frame sustainability from diverse perspectives will assist even veteran sales people capture the eco-premium.
Communication: Tailor sustainability training to the audience. As fierce partisanship becomes more prevalent, it is important to frame sustainability with sensitivity to the differing value sets of diverse audiences. By highlighting the national security and profitability advantages, or, alternatively, climate protection and stewardship contributions of more sustainable behaviors, firms can communicate to specific demographics and appeal to the values they identify with.
Incentivize: Strategy may be formed at the c-level, but execution occurs with frontline employees when sales boots hit the pavement.  By integrating sustainability performance and training into compensation models or annual reviews employers ensure frontline employees make genuine commitments to reaching sustainability goals.
Eco-Products' Success with this Model
Eco-Products integrated the business case for sustainability with employee engagement as a key to getting the highest possible profit.
The sales training materials that NCS produced not only succeed in giving our brand a higher degree of visibility in the field, but they work to make our sales force the most informed and educated about sustainability in our industry. Claudia Capitini
Enabling your employees to become more engaged with sustainability and better able to communicate your company values to the customer will be the defining factor between success and leaving money on the table.
[/fusion_builder_column][/fusion_builder_row][/fusion_builder_container]