[fusion_builder_container hundred_percent="yes" overflow="visible"][fusion_builder_row][fusion_builder_column type="1_1″ background_position="left top" background_color="" border_size="" border_color="" border_style="solid" spacing="yes" background_image="" background_repeat="no-repeat" padding="" margin_top="0px" margin_bottom="0px" class="" id="" animation_type="" animation_speed="0.3″ animation_direction="left" hide_on_mobile="no" center_content="no" min_height="none"]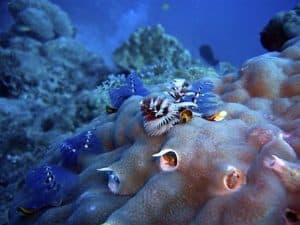 ALSO POSTED BY:
Huffington Post
17 August 2011

The recent squall over SpongeBob SquarePants and his book about global climate change appears to have died down now. That's a pity. Sometimes, it's in the public interest to turn a squall into a hurricane…
Here's the backstory, in case you missed it. Last month, the U.S. Department of Education sponsored an event to encourage kids to read books. One of the books at the event featured Nickelodeon's SpongeBob SquarePants on an "earth-friendly adventure." As E&E reporter Jean Chemnick explained, SpongeBob's sidekick Mr. Krabs…
…decides to pump enough greenhouse gases into the Earth's atmosphere to bring on "endless summer" so his ocean-front swimming pool will always be full of paying customers. The plot backfires, however, when he and SpongeBob realize they have created an environmental disaster.
Fox News, television's equivalent of a playground bully, beat up on Nickelodeon, the Education Department and by implication, SpongeBob. Fox commentator Gretchen Carlson complained that SpongeBob should have told kids climate change is "actually a disputed fact." A spokesman for the Heritage Foundation piled on, saying SpongeBob had given us "an important reminder of why the federal government shouldn't be involved in school curriculum."

But when it put the squeeze on SpongeBob, Fox created an ideal opportunity for the Obama Administration to slug it out on the real issues here: Is climate change really a "disputed fact," and why shouldn't the federal government be involved in educating kids about it?
Unfortunately, the Education Department went on defense rather than offense. Justin Hamilton, press secretary at the Department of Education, told Huffington Post it was corporate partners rather than the federal government that provided the books at the event. "The kids get to pick whatever books they're interested in," he said. "We're very happy that corporate sponsors have made good books available for kids to select and take home."
Hoping for a more muscular response, I searched the Department's web site but found no spirited statement on its right — nay, its obligation — to help teach kids about climate science, the atmosphere, the biosphere, ecosystem services, air pollution, weather and other elements of eco-literacy. After all, it's our lack of knowledge and concern about these topics that turned climate change from a "disputed fact" into an observable reality kids will have to deal with for many generations to come.
Past congresses have agreed. In 2009 and 2010, Congress asked the National Science Foundation to create a program that would improve climate change education in the United States. As the National Research Council explained in a report produced as a result of Congress's request:
The global scientific and policy community now unequivocally accepts that human activities cause global climate change. Although information on climate change is readily available, the nation still seems unprepared or unwilling to respond effectively to climate change, due partly to a general lack of public understanding of climate change issues and opportunities for effective responses. The reality of global climate change lends increasing urgency to the need for effective education on earth system science, as well as on the human and behavioral dimensions of climate change, from broad societal action to smart energy choices at the household level.
When challenged by bullies, deniers and flat-earthers, federal officials should fight back hard on this issue. President Obama should direct them to do so. The result would be more media attention and more public education on climate facts. Backing away from the fight encourages Fox to act like all other bullies: The more they get away with abuse, the more they do.
So, let's all send a message to Arne Duncan: Don't be a scaredy pants; side with SquarePants. How about commissioning SpongeBob and his friends to debate Fox's pundits on national television. Miss Piggy, Thomas the Tank Engine, Dora the Explorer and Lisa Simpson would give Fox News a good, old-fashioned, earth-friendly ass whoopin'. It would be one of Secretary Duncan's finest hours.
Meantime, SpongeBob's green adventure is available at Amazon.com. Buy it for your kids. The publisher says it's filled with "green goodness." And as SpongeBob himself might say: When it comes to eco-literacy, we need to soak up all the information we can.

Follow William S. Becker on Twitter: www.twitter.com/sustainabill[/fusion_builder_column][/fusion_builder_row][/fusion_builder_container]