[fusion_builder_container hundred_percent="yes" overflow="visible"][fusion_builder_row][fusion_builder_column type="1_1″ background_position="left top" background_color="" border_size="" border_color="" border_style="solid" spacing="yes" background_image="" background_repeat="no-repeat" padding="" margin_top="0px" margin_bottom="0px" class="" id="" animation_type="" animation_speed="0.3″ animation_direction="left" hide_on_mobile="no" center_content="no" min_height="none"]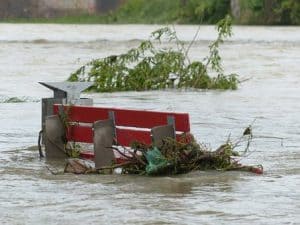 ALSO POSTED BY:
Huffington Post
13 January 2013
Barack Obama is very likely the last American president who can keep us from plunging helplessly off the climate cliff.  Judging by his Inaugural and State of the Union speeches, he gets that.
It has been a long time coming.
Lyndon Johnson was the first president on record to be warned that unless our energy policies changed, climate change would become apparent, and perhaps irreversible, by the turn of the century. In 1965, Johnson's panel of science advisors told him:
By the year 2000 there will be about 25% more CO2 in the atmosphere than at present. This will modify the heat balance of the atmosphere to such an extent that marked changes in climate, not controllable through local or even national efforts, could occur. Now, 48 years and eight presidents later, climate disruption is accelerating more quickly than most scientists predicted. U.S. energy policy is still dominated by denial, by the political influence of fossil energy industries, and by Congress's negligent disregard for climate science. The growing consensus now is that the world is locked in to global temperature increases well above the 2 degrees Centigrade that scientists say would give us an even chance of avoiding the worst impacts of global warming.
In 2009, Rajendra Pachauri, head of the Intergovernmental Panel on Climate Change (IPCC), warned that global greenhouse gas emissions must begin to decline by 2015 if we are to keep climate disruption from spinning beyond control.
"It is not enough to set any aspirational goal for 2050," he said. "It is critically important that we bring about a commitment to reduce emissions effectively by 2020."
That threshold year –2015 – is happening on Obama's watch.
President Obama can't reverse the world's race toward the climate cliff single-handedly, of course. It would be both unrealistic and unfair to expect him to become the world's environmental superhero.
But he has reignited hopes that the United States, the source of most of the greenhouse gases in the atmosphere today and still the world's second-largest source of those emissions, will make the effort. American leadership has been a missing catalyst for a serious global climate commitment.
In his State of the Union address, Obama said that if Congress doesn't act, he said, he will.  The President's powers are not insignificant. But most of the actions Obama can take unilaterally are perishable. Executive orders and presidential proclamations can be undone by the next President or by Congress.
That's why America's diverse "stakeholders" in a more stable climate – from farmers to homebuilders, from coastal communities to the evolving dustbowl in the heartland, and from sports fishermen to the workers who assemble wind turbines and solar panels – must have Obama's back.
Obama has said he'll do his job. Ours is to create such strong grassroots political support for climate action that no future President would dare undo what we hope Obama will accomplish.

[/fusion_builder_column][/fusion_builder_row][/fusion_builder_container]