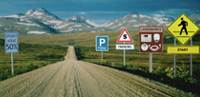 Radical Energy Efficiency in Your Community
The REEL in Alaska Roadmap demonstrates how Alaskans in the Railbelt region of Anchorage, Juneau, and Homer can meet their electricity needs in 2025, using as little as 50% of the electricity used in the year 2000.Accomplishing this goal will lead to increases of $947,992,100 in economic output, $290,927,800 in wages, $53,499,850 in business income, and 9,350 new jobs.For more information on how Natural Capitalism Solutions can help your community set and achieve similar goals, contact contact us.
Click here to download the complete report.
Click here to download the executive summary.