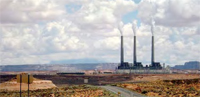 Transition from Coal to Clean Energy Makes Good Business Sense
Utilities and other large-scale energy providers with significant percentages of coal in their generation portfolios can profitably transition toward more flexible and less capital intensive efficiency and renewables technologies using a business approach outlined in a new economic study completed by Natural Capitalism Solutions. This report provides an economic case study in energy financing.
For more information on how Natural Capitalism Solutions can analyze alternatives to your local coal plant contact us.
Click here to download the 4 March 2010 Press Release.
Click here to download the Executive Summary
Click here to download the Complete Report.