2018 Past Interns and Fellows
Interns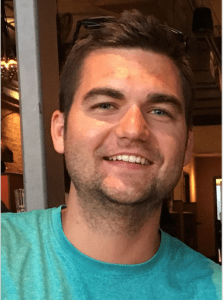 Dave Smith
David Smith has a mission to use business as a catalyst for environmental and social progress. He discovered a love for the outdoors and connection to nature while growing up in Cincinnati, Ohio. During a study abroad program in Costa Rica, he realized the most powerful way to advocate for environmental stewardship is by making it profitable. David attended the University of Michigan, where he majored in Business Administration and minored in Sustainability. Afterwards, he implemented energy efficiency measures at Amazon.com and helped businesses and homeowners install solar panels in the Midwest. He is currently pursuing an MBA at the University of Colorado, Boulder, where he is concentrating in Sustainability and Entrepreneurship. In his free time, he enjoys skiing, backpacking, and almost anything outdoors. He is excited to join the Natural Capitalism Solutions team and take the next step on his journey to leverage the power of business to help our communities and planet.
Summer Interns

Kate Lane
Kat grew up close by in Boulder, Colorado and developed a love for the mountains from a very young age though backpacking, skiing, running, and climbing. After high school, Kat knew she needed to see the world a bit before beginning college, and her love of the environment brought her from organic farming in Fiji to the Annapurna Conservation Area Project in Nepal. On her travels, Kat was exposed to the social and environmental dangers of unsustainable land use practices, unethical tourism, and the consequences of global capitalism in the far reaches of the globe. She realized that she didn't need to travel far to enact change and began to pursue a degree in Anthropology and Geography with a concentration in Sustainability and International Development from Cal Poly in San Luis Obispo, California. Kat hopes a degree in sustainability and her time at Natural Capitalism Solutions will help her forge a path to a brighter future for the planet and its inhabitants.
Zina Precht-Rodriguez
Zina joins NCS from New York City, where she studies Human Rights and Sustainable Development at Columbia University. She developed her passion for her studies during her gap year, where she worked full-time at the Climate Museum, a startup nonprofit aiming to establish public engagement on climate change and solutions. At Columbia, Zina now serves as a fellow to a carbon tax policy nonprofit called Our Climate, where she engages in community outreach, state and city lobbying, and also serves on the Policy Committee. She looks forward to working at NCS to broaden her understanding of sustainability and economic development on a holistic level.
Fellows
Independent Research Consultant 
Nat Knowles
Growing up in Toronto, Nat represented Canada internationally as a competitive ski racer before joining the University of Denver Ski Team NCAA Div 1 Championship ski team. From there she moved to the UK, completing a Master of Science degree in Biodiversity Conservation and Management from the University of Oxford. Still an avid skier, her thesis research focuses on climate change and corporate social and environmental responsibility, specifically looking at how environmental sustainability can enhance the tourist experience and create long-term profitability in the North American ski industry. With a passion for wilderness, travel, and adventure, she plans to continue find innovative ways to align profitability with sustainability in the tourism and outdoor recreation industries professionally.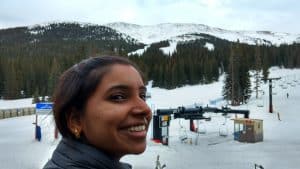 Ghayathri Babu
Ghayathri is originally from Chennai, India. She has a Bachelors in Electronics and Instrumentation engineering and a Post Grad diploma in Operations Management. Having moved to Colorado few months back, she is an avid hiking enthusiast and nature lover. Having grown up in some of the drought ridden places of India, she understands the importance of natural resources and advocates the preservation of those. She is very excited to get involved in real-life scenarios of her principles.