Leading For WellBeing
 Leading for Well-being, (L4WB) is an international team that has come together to craft a narrative of an economy that works for 100 percent of humanity. We are ordinary people: workers, scholars, business leaders, mothers, bankers, activists, faith leaders, farmers and more. Natural Capitalism Solutions is a founding member of the convening group, and remains active in L4WB.
Our economic story today is broken.The world has become unstable economically, environmentally, and socially. The demand for a new economic model is growing louder around the world. Neoliberalism, the mental model that drives current global economic thinking, has created vast financial wealth, but also inequality and environmental destruction. Almost invisible, neoliberalism is today so pervasive that it is hard to frame an alternative to it. It is important to remember, however, that it was created by a small group of men after World War II to serve their view of how the world should work. Reacting to National Socialism that had trashed Europe, and the rise of Soviet collectivism, these men  believed that individual sovereignty, small government and free markets were necessary to ensure freedom and provide for the needs of a growing world.
Now, 70 year later, we need to recognize what this prevalent economic myth is doing to us: The global economy rests on a knife-edge. Unsustainable business practices are driving societies and ecosystems into successive collapses, with all major ecosystems are in decline. People across the planet struggle to make ends meet and find purpose in their lives. Sixty-five million, the greatest number since World War II, are refugees from climate change and war, while sixty-two people have as much wealth as the bottom 3.5 billion poorest. This isn't working.
As populist movements demand the prosperity and quality of life they were promised, the need for a new narrative is clear if we are to avoid descent into tribalism and authoritarianism. L4WB is working to create  a strategy to achieve the regenerative future we need: an economy that in service to life. Solutions exist but requisite actors are not implementing them. The business case for sustainability needs to be combined with a replicable framework that delivers tools to implement an integrated approach to well-being that reliably increases human health and productivity and fosters community integrity as well as corporate sustainability.
Several hundred people from two-dozen nations have come together at meetings in New York, Tubingen, Germany, Monterrey Mexico and elsewhere. We seek to put forward  answer to the Powell Memorandum, the document that enabled the neoliberal narrative to dominate global economic discourse.
We offer this narrative as an alternative to the neoliberal message of unfettered market capitalism:
True freedom and success depend on creating a world where individuals flourish and we all prosper. Governments serve humanity best when they recognize our individual dignity and enhance our interconnectedness. To thrive, businesses and society must pivot toward a new purpose: shared well-being on a healthy planet.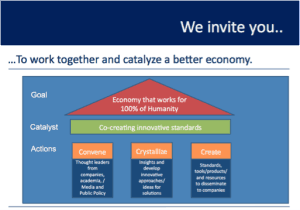 In 2017 we will hold four major events (Paris, France, Boulder Colorado, Cleveland, Ohio and Guatemala). We are  planning further conferences 2018 with partners across the globe.
Hosts: OECD, The Humanistic Management Network, the American Sustainable Business Council, Natural Capitalism Solutions, The Fowler Center for Business as an Agent of World Benefit and Fordham University
Partners:
The Fowler Center for Business as an Agent of World Benefit
The Fowler Center for Business as an Agent of World Benefit exists to advance the scholarship and practice of flourishing enterprise. The Center's primary focus is on for-profit organizations that use their core activities to create value for society and the environment in ways that create even more value for their customers and shareholders. Its theory of change draws on Positive Organizational Science, Appreciative Inquiry, Sustainable Value, Design, and Systems Thinking.
UN PRME
The Principles for Responsible Management Education is a UN Global Compact sponsored initiative with the mission to inspire management education, research and thought leadership globally. Higher education institutions become signatories to the six Principles for Responsible Management Education.
UN Global Compact
The UN Global Compact is a strategic policy initiative for businesses that are committed to aligning their operations and strategies with ten universally accepted principles in the areas of human rights, labour, environment and anti-corruption.
The Club of Rome
The Club of Rome is an international think-tank composed of individuals who share a common concern for the future of humanity and strive to make a difference.
World Bank
The World Bank is an international financial institution that provides loans to developing countries for capital programs.
American Sustainable Business council
The American Sustainable Business Institute, a distinct legal entity, operates under IRS code 501(c)(3). It offers programs that educate and inform the public and policy makers about the benefits of a more sustainable economy, and about policies and practices that can help the economy become more sustainable.
The Guardian
The Guardian is a British news and media website owned by the Guardian Media Group.
Huffington Post
The Huffington Post is a politically liberal American online news aggregator and blog that has both localised and international editions
Futerra
Futerra is an international sustainability strategy and creative agency with offices in London, New York and Stockholm.
Humanistic Management Network
Humanistic Management Network's mission is to influence business academia, management practitioners, policy makers, and the general public in defining the purpose and role of business in a global society. We foster the creation and dissemination of actionable knowledge to change business practices towards humanistic ideals.
OECD Better Life Initiative
The Better Life Index is designed to let you visualize and compare some of the key factors –like education, housing, environment, and so on – that contribute to well-being in OECD countries. It's an interactive tool that allows you to see how countries perform according to the importance you give to each of 11 topics that make for a better life.
Fordham University
Fordham University is a Jesuit, Catholic university. Their spirit comes from the nearly 500-year history of the Jesuits. It's the spirit of full-hearted engagement—with profound ideas, with communities around the world, with injustice, with beauty, with the entirety of the human experience.
Natural Capitalism Solutions
Natural Capitalism Solutions' mission is to educate senior decision-makers in business, government and civil society about the principles of sustainability. Natural Capitalism is regenerative of  human and natural capital while increasing prosperity and quality of life. In partnership with leading thinkers and groups, Natural Capitalism Solutions creates innovative, practical tools and implementation strategies for companies, communities and countries.
Thought and Action Leaders already committed to this Consortium: Hunter Lovins (Natural Capitalism Solutions), Jeffrey Sachs (Earth Institute, Columbia),Michael Pirson (Fordham/Harvard), Chris Laszlo, Fowler Center for Business as an Agent of World Benefit, Andrew Winston (author Big Pivot), David Levine, American Sustainable Business Council, Robert Costanza, Otto Scharmer (Theory U, MIT), Vincent Stanley (Patagonia), Martine Durand (OECD), Hans Kueng, Claus Dirksmeir (Global Ethics Institute), Donna Hicks (Harvard), Sandra Waddock (Boston College, Harvard), Judith Ford, San Diego State University, Freya Williams (Futerra), Jo Confino (HuffPo), and many more.
Join us to craft a finer future.
For more information, please contact Jeff Hohensee of Natural Capitalism Solutions at [email protected]