2017 NCS Interns & Fellows
Natural Capitalism Solutions has a well-established internship and fellowship program. We are proud to have educated so many gifted individuals and look forward to working with them all as peers for years to come. Read about our current interns and fellows below. If you are interested in learning about how you can join our intern program, click here. To learn about our amazing intern alumni, click here.
Interns
   Molly May (Sustainability Implementation Intern)
Molly is a graduate student at the University of Colorado working toward her PhD in physics. She grew up in southwestern Colorado where she developed a deep connection with nature and a habit of spending nearly all of her free time outdoors.
While she finds her current research developing fluorescent, diamond nanoparticles for studying the function of neuronal networks thoroughly fascinating, Molly has also nurtured a passion for science communication for almost a decade and over that time she has enjoyed many diverse teaching experiences. More recently, however, Molly's growing concern for the state of the environment has led her to apply her skills in science and communication to work toward a sustainable future. She began by working as a Research Analyst with Clean Energy Action for a year before starting her internship with Natural Capitalism in February 2017.
A.J. Grosenbaugh (Economic Transformation Internship)
AJ is originally from Falmouth, Massachusetts and made his way to the Rocky Mountain region by way of Colorado College. After graduating from college in 2015 with a degree in Mathematical Economics, AJ worked several jobs, each causing him to question the way businesses take their impact on the world into account. In joining NCS, AJ sees an opportunity to shift the economic paradigm using lessons lent from the previous industrial model to forge a new path towards economic prosperity. One which fosters the conservation and sustainable use of the Earth's natural capital.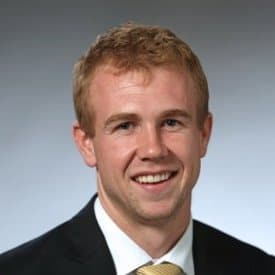 Andrew Streight (Sustainability Implementation Intern)
While Andrew is technically not a native of Colorado, originally born in Ohio, he moved here when he was four and considers Colorado his home. As an avid rock climber and hiker, Andrew believes deeply in the importance of protecting natural resources for generations to come and this is where his connection to sustainability is rooted. After growing up just south of the Denver area, Andrew went to Colorado College (CC) where he received his BA in Philosophy. Following graduation, Andrew worked for two years as the Program Coordinator in the President's Office at CC. After working at CC, Andrew began working as the Education Coordinator for a water conservation education program run out of South Metro Water Supply Authority, furthering his interest in sustainability and the protection of natural resources.
In the fall of 2015, Andrew enrolled in the Josef Korbel School of International Relations to pursue a Master of Arts degree in Global Finance, Trade, and Economic Integration as well as a graduate certificate in International Law and Human Rights. Andrew believes the importance of a sustainable approach to business and politics lies in the intersections between economics and human rights because sustainability means protecting and ensuring the longevity of resources, citizens and communities. While these fields often pass right by each other without ever really understanding the other's perspective, Andrew hopes to orient his career around articulating the ways in which these seemingly conflicting viewpoints can not only coexist, but thrive together.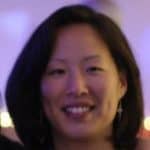 Stephanie Hsiung (Sustainability Implementation Intern)

Stephanie is an aspiring sustainability leader whose passion for the environment wasn't awakened until late in her undergraduate years. Originally, she was an Art History and English Literature double major at Williams College. However, after a formative internship with The Canary Project, Stephanie realized that working to address the environmental challenges of our time was her true calling. She returned to school for a Post baccalaureate Certificate in Ecology, Evolution, and Environmental Biology from Columbia University and then packed her bags for Colorado.
Stephanie was a Research Analyst with the Sierra Club's Environmental Law Program, working on a variety of issues from fracking to public land management to wildlife conservation. Her experience with environmental law eventually led her to an interest in corporate sustainability. She intends to start a Master of Environmental Management program in the Fall after learning as much as possible from her internship with Natural Capitalism Solutions. Growing up in the suburbs of New Jersey, Stephanie did not discover her love of the outdoors until her move to Colorado. Now she can be found trail running, mountain biking, cycling, rock climbing, and backcountry snowboarding every chance she gets (more often than not with her indefatigable adventure dog, Cooper).
Fellows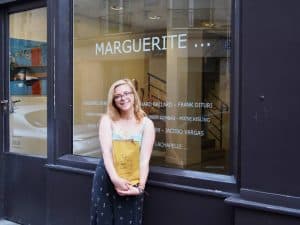 . Marguerite Behringer (Sustainability Implementation Fellow)
Marguerite Behringer is a scientist at heart who is interested in bridging research and societal action.  Years of experience at the University of Colorado, Boulder recycling facility broadened Marguerite's perspective on product life-cycles and created a dedication to waste mitigation. Marguerite graduated the University of Colorado, Boulder magna cum laude with a dual degree in Environmental Studies and Ecology and Evolutionary Biology. She intends on carrying the principles of Regenerative Economics into business and community plans here in Colorado and hopefully, one day, around the world. When Marguerite is not rigorously researching, she can be found bartending, dancing, riding trains, musing, and exploring authentic connection.