2017 Current NCS Interns & Fellows
Natural Capitalism Solutions has a well-established internship and fellowship program. We are proud to have educated so many gifted individuals and look forward to working with them all as peers for years to come. Read about our current interns and fellows below. If you are interested in learning about how you can join our intern program, click here. To learn about our amazing intern alumni, click here.
Interns
Hayley Theriault 
Hayley is a Colorado native who was born and raised in Longmont. She now lives in Fort Collins and is attending Colorado State University. She will graduate in the Spring of 2018 with a degree in Economics and a minor in Global Environmental Sustainability. Hayley is especially interested in renewable energy sources, natural resources, and sustainable gardening and harvesting. Her passion for the environment almost always leads Hayley outside during her free time. Aside from the environment, Hayley is also passionate about animals, astrology, and hockey.
Yueqi Pan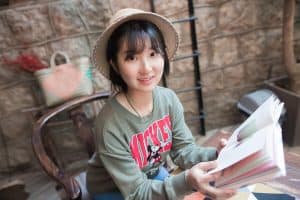 Yueqi is studying mathematics and environmental studies in CU Boulder and working in a biochemistry lab on east campus. She grew up in Chengdu, China, a city famous for pandas and hot pots. However, the air quality in her hometown has been getting worse recently. She misses the blue sky and is eager to make future generations live in a better environment: they do not need to wear mask everyday or worry about getting lung cancer. In addition to her enthusiasm for the environment, she is a ballet lover, and likes cooking and gardening. In the future, she want to open one organic cafe, where people will come to experience suburban life in cities, learn things about organic farms and have more concern for our environment.
Becca Mace 
Becca grew up in Santa Cruz, California and always had a passion for the environment. After spending most her time skiing, beach lifeguarding, climbing or running, she decided to expand her knowledge and experience and moved to Colorado to pursue a career in Environmental Studies with a minor in Sociology at the University of Colorado. While studying, her interest in climate change grew and she discovered new topics that expanded her understanding such as how climate and conflict are interconnected, how certain ecosystems cannot survive if their keystone predators go extinct, and how inequality through the world contributes to the extreme climate destruction that is happening today. She traveled to Australia to study environmental action and sustainability and learned first-hand to combat companies and businesses that were actively destroying the environment. She then took the knowledge she learned abroad and brought it back to the states to compare and utilize this knowledge in her community. She became a member of Boulder Food Rescue and delivered food to different shelters throughout Boulder by bike. She was also a member if the CU freestyle ski team and spent many weekend competing and skiing with her team members. She plans to learn as much as she can while interning at Natural Capital Solutions and then hopefully moving and working as a sustainable city planner for a different city implementing all of the knowledge she has gathered throughout her life.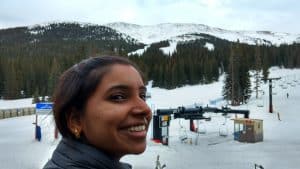 Ghayathri Babu
Ghayathri is originally from Chennai, India. She has a Bachelors in Electronics and Instrumentation engineering and a Post Grad diploma in Operations Management. Having moved to Colorado few months back, she is an avid hiking enthusiast and nature lover. Having grown up in some of the drought ridden places of India, she understands the importance of natural resources and advocates the preservation of those. She is very excited to get involved in real-life scenarios of her principles.
Noah Schwadron 
Noah is a Colorado local and undergrad at the University of Colorado, Boulder in Environmental Studies. He's gone as far as Panama to study environmental and social issues and is intrigued by the intersection of the two. He's also studied quantitative analysis and design to compliment his education in environmental theory. He aims to promote public health through corporate social responsibility, equitable public policy, and accessible education. In his free time, he enjoys swimming in lakes and rivers, riding his bike, cooking, photography, and engaging in Colorado's indie music scene.
Tatjana Kunz
Tatjana grew up in Boulder, CO, where she fostered a passion for environmental issues. Starting with her work in the NetZero Environmental Club in middle school, she knew that she wanted to continue learning about sustainability. In high school she spent time on the Youth Opportunities Advisory Board in Boulder and had the opportunity to work with the city's Climate Commitment group. She's currently a sophomore at the University of California, Davis, studying Environmental Policy Analysis and Planning. Tatjana is hoping to work in the sustainability field, particularly its intersection with climate justice.
In her free time, Tatjana is a runner on the cross country and track and field teams at UC Davis. She also enjoys working with seniors, doing yoga, cooking, and eating.
Fellows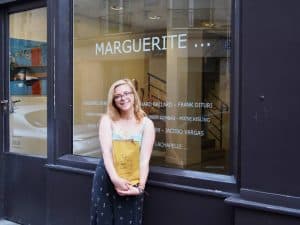 Marguerite Behringer (Sustainability Implementation Fellow)
Marguerite Behringer is a scientist at heart who is interested in bridging research and societal action.  Years of experience at the University of Colorado, Boulder recycling facility broadened Marguerite's perspective on product life-cycles and created a dedication to waste mitigation. Marguerite graduated the University of Colorado, Boulder magna cum laude with a dual degree in Environmental Studies and Ecology and Evolutionary Biology. She intends on carrying the principles of Regenerative Economics into business and community plans here in Colorado and hopefully, one day, around the world. When Marguerite is not rigorously researching, she can be found bartending, dancing, riding trains, musing, and exploring authentic connection.