2018 Current NCS Interns & Fellows
Natural Capitalism Solutions has a well-established internship and fellowship program. We are proud to have educated so many gifted individuals and look forward to working with them all as peers for years to come. Read about our current interns and fellows below. If you are interested in learning about how you can join our intern program, click here. To learn about our amazing intern alumni, click here.
Interns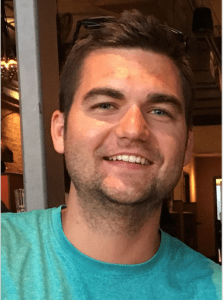 Dave Smith
David Smith has a mission to use business as a catalyst for environmental and social progress. He discovered a love for the outdoors and connection to nature while growing up in Cincinnati, Ohio. During a study abroad program in Costa Rica, he realized the most powerful way to advocate for environmental stewardship is by making it profitable. David attended the University of Michigan, where he majored in Business Administration and minored in Sustainability. Afterwards, he implemented energy efficiency measures at Amazon.com and helped businesses and homeowners install solar panels in the Midwest. He is currently pursuing an MBA at the University of Colorado, Boulder, where he is concentrating in Sustainability and Entrepreneurship. In his free time, he enjoys skiing, backpacking, and almost anything outdoors. He is excited to join the Natural Capitalism Solutions team and take the next step on his journey to leverage the power of business to help our communities and planet.
Phoebe Lyod
Raised in the Northwest in Bellingham, WA and having spent the past 8 years in Aspen, Colorado, Phoebe has developed a passion for nature and adventure. Majoring in Horticulture from Washington State University, she has since developed a career in the wine industry, as well as founded a social media and event promotion company. Her background and love for the planet has propelled her into the sustainability sector to provide needed assistance in the marketing and communications realm. Her aspirations are to become a voice for millennials in the face of climate change and environmental policy, and works passionately on her eco-blog, BareChange.org.
Fellows
Independent Research Consultant 
Nat Knowles
Growing up in Toronto, Nat represented Canada internationally as a competitive ski racer before joining the University of Denver Ski Team NCAA Div 1 Championship ski team. From there she moved to the UK, completing a Master of Science degree in Biodiversity Conservation and Management from the University of Oxford. Still an avid skier, her thesis research focuses on climate change and corporate social and environmental responsibility, specifically looking at how environmental sustainability can enhance the tourist experience and create long-term profitability in the North American ski industry. With a passion for wilderness, travel, and adventure, she plans to continue find innovative ways to align profitability with sustainability in the tourism and outdoor recreation industries professionally.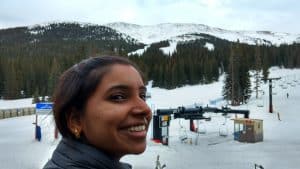 Ghayathri Babu
Ghayathri is originally from Chennai, India. She has a Bachelors in Electronics and Instrumentation engineering and a Post Grad diploma in Operations Management. Having moved to Colorado few months back, she is an avid hiking enthusiast and nature lover. Having grown up in some of the drought ridden places of India, she understands the importance of natural resources and advocates the preservation of those. She is very excited to get involved in real-life scenarios of her principles.