The Finer Future Forum
An invitation to co-create an Economy In Service to Life
The future is founded on vision. Stories we tell ourselves build roadways to that future. Or lock us into deadends. Is ours a future of global warming, 65 million migrants fleeing failed states, soaring inequality and grid-locked politics?
Or is it one of empowered entrepreneurs and innovators building a world that works for everyone?
The story on which our economy is now based began with Adam Smith. It was spun by battles between New Deals and Neo-liberal ideologies. It came to rest in the 1970s on a belief that humans are, at heart greedy, that we measure success only by money, that markets are perfect, government fatally flawed and us all are useful only as servants of finance.
A new vision for the future is emerging. Born of a new narrative, it says that humans are happiest when we are interconnected, that while money matters, the health of our home and families matters more, that equity throughout society and resilience are better starting places for a global economy, and that we can entrepreneur our way to a finer future.
Does this seem to make sense? Working with the Club of Rome and dozens of international experts, I have been sketching the details of a pathway to the world we want, and preparing a new book: A Finer Future. To refine this vision and bring it to a broader audience I need your help.
I invite you to become a founding member of The Finer Future Forum, to contribute financially to support me in finishing the book and to join a small community of friends in crafting a world saving vision. As a founding member, you will have the opportunity to be part of co-creating this new narrative. You will help co-create with me our new book.
A Finer Future started as a report to the Club of Rome. It is now being readied for publication as a book to rally communities, companies and countries to a world that works for 100% of humanity, as Buckminster Fuller challenged us to create. Its primary authors are myself, Stewart Wallis (founder of New Economics Foundation in the UK), Anders Wijkman (co-Chair of the Club of Rome and former EU parliamentarian), John Fullerton (Former Managing Director Morgan Stanley and President of Capital Institute) and Graeme Maxton (Secretary General of Club of Rome).
And you.
Join with me for a monthly conversation hosted here on the Front Range with other visionaries, storytellers and changemakers. Together we will discuss the concepts underlying A Finer Future, and explore how to implement these ideas in your life, in our community, in Colorado and in the world. This stage of the conversation will culminate next May in the Economy in Service to Life conference, co-hosted by the Alliance for Sustainable Colorado, At the Epicenter, the University of Colorado, Leading for Well-being, and many others.
This is not as daunting an invitation as it might at first glance seem. The book is nearly written. This is an invitation to receive the manuscript, and engage as much as you wish with it to shape it, finish it, and make it personal to you. The book will be finalized in November.
In return, you will be acknowledged in the front of the book as a co-creator/ thought leader, and receive your own, signed copy. You will be a core member of the team that will create the strategy to bring it to life here in the Boulder Valley and the Colorado Front Range. We will meet at my ranch for Moscow Mules on my porch, for drinks at the Greenbriar Inn, at the Alliance for Sustainable Colorado, at your favorite gathering spot for late afternoons of conversation.
I am asking you as one of a select group of core members to contribute $10,000. This will enable me to finish the book, and to host the ongoing conversations.  It will also enable Natural Capitalism Solutions to create and moderate an ongoing on-line forum that will be open to a broader membership wanting to engage in these conversations.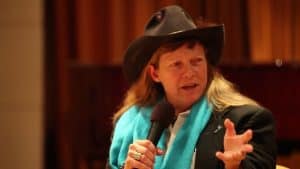 The inaugural meeting will be at my ranch in September, then held monthly until the Economy in Service to Life conference in May.
Please join me, along with special friends who are working on these issues around the country and the world who will join us as they come through town for this innovative adventure in knowledge creation, and implementation.
With warmest regards,
Hunter Lovins